Central Vietnam is home to many beautiful and pristine beaches. In the summer, most popular beaches are full of tourists coming to cool off. Therefore, finding a lesser-known beach is a great idea to avoid this crowdedness. Whale Island is your place to go with dreamy and peaceful natural surroundings and eco-friendly bungalows. It will surely satisfy visitors once setting foot in.
I. Overview of Whale Island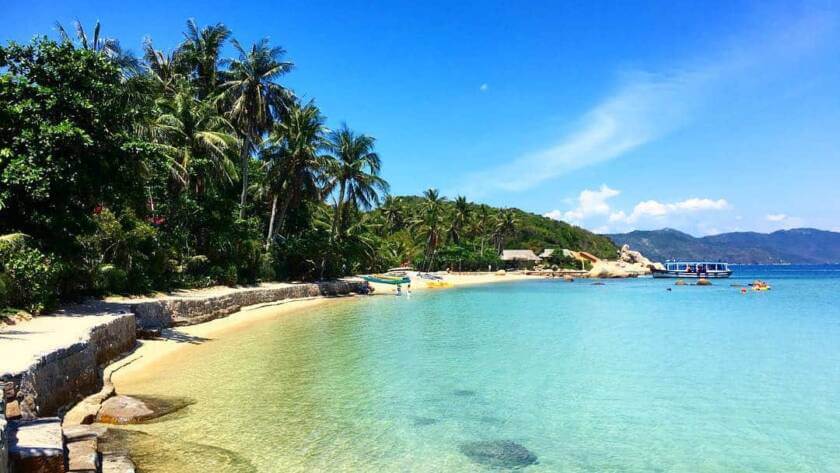 The resort is located 80 kms North of Nha Trang at the tip of an archipelago. It is absolute paradise – an ideal place for resting and enjoying many beautiful sights and relics of Whale Island. Coming to Whale Island, you will learn about the fishing work of the inhabitants, the habits and customs of minority living in Van Phong Bay. Moreover, you can conceive vacations as relaxation and conviviality.
For entertainment, you can play some fantastic water sports such as: Catamaran, Windsurf, diving, or snorkeling to discover diverse coral reefs and marine life in turquoise sea. After wonderful time of exploiting the ocean, you can walk along the beach of soft white sand and coconut trees or climb the mountain to watch lovely animals living in Whale Island's forest. Especially, you can stay in very nice bungalows along the beach, have meals with Vietnamese and seafood specialties while seeing some whales.
II. Why is Whale Island Special?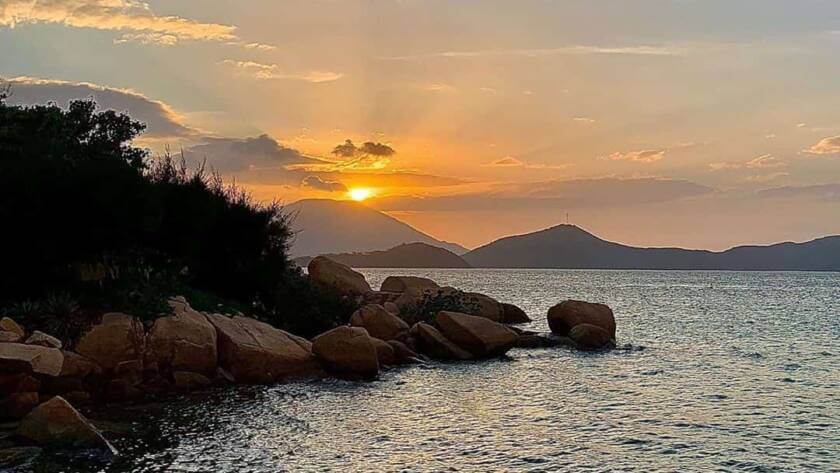 It is amazing to know that Whale Island was listed among 10 must-visit diving destinations this year by Forbes. With an average water temperature hovering around a beautiful 28 degree Celsius, Whale Island is particularly known for its hidden gems in the lush soft corals. This brings a lot of excitement to diving here.
The story behind its name is also very exciting. From April to July annually, whale sharks and whales flock to this archipelago to find their food like krill and plankton. If you are lucky enough, you may see some of these whales and take some great pictures.
Besides, Whale Island is a must-see destination for its pristine beauty. Since there are no inhabitants in the island, the island still remains almost untouched. Its beauty is so impressive that it is also called Maldives of Vietnam. The landscape underwater is as beautiful as the landscape above the water. The waters are deep, calm, and clear, so you can clearly see the underwater sea life, from the beautiful coral reefs to different kinds of sea animals like fishes and seahorses.
One of good point at Whale Island is definitely in its underwater landscape. Vietnam starts to be a diving destination. The diving is practically to conduct from January 15 to October 15 annually. The diversity of the coral as well as the other components of submarine fauna contribute to the reputation of the resort. Some reefs are accessible only with palms, masks and tubas. This site permits some beginners to familiarize themselves with the submarine motricity in all security for them self and the fauna & flora that they will be able to admire.
In addition, there is a pleasant bamboo restaurant on the island serving a limited mixture of international and Vietnamese cuisine with a decent wine list. Catering standards are high, but expect plenty of seafood as all other provisions have to be transported from Nha Trang. A bar on a rocky promontory serves drinks at sensible prices, and an adjacent lounge and terrace overlooking the sea has billiard tables and other indoor pastimes.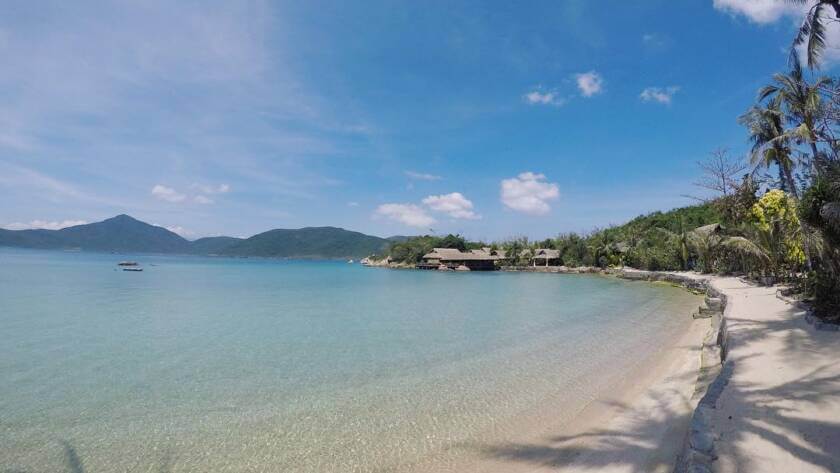 Another unique thing is that Whale Island Resort, the only resort on the island, is in the middle of no where, is an ideal place to escape from the hustle & bustle of city life. It is here that you just hear the sound of ocean and wild life. Its pristine transparent water and offshore corral reef is great to go for swimming, snorkerling or scuba diving.
Along with the well-known beaches, the islands around the area has also become one of the most popular attractions in Nha Trang. Taking a cruise to these less crowded Nha Trang islands might be a good idea for a Nha Trang day tour as it take you away from the pretty crowded beaches and bustling city life.
III. Things To Do in Whale Island
The fresh and clean beaches on Whale Island are ideal for tourists to admire schools of fishes swimming in the blue waters. It is highly recommended for tourists to try swimming and sunbathing on this beautiful island. Besides, there are also many other interesting activities to do.
1. Trekking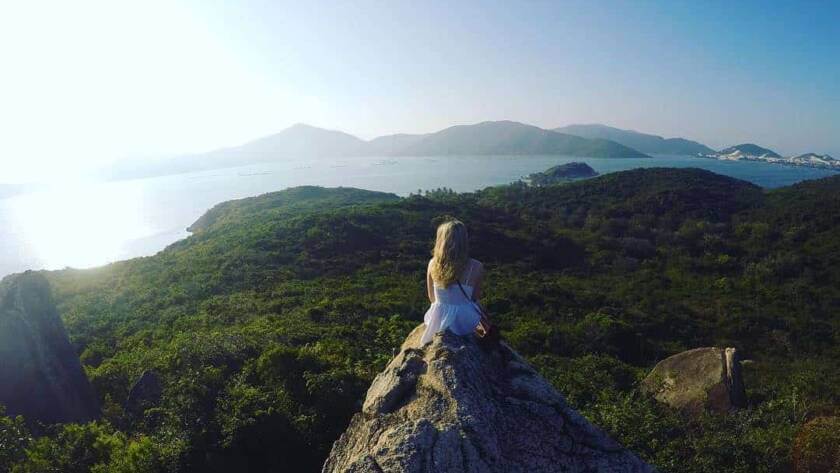 Trekking is considered the best way to explore interesting natural insights on Whale Island, especially when you want to unwind from the beach. Before trekking, it is better to well prepare your essential things to bring including a good pair of shoes, long-sleeved clothes, some water, mosquito repellent, etc. You can ask your hotel receptionist for trekking instructions. Normally, they will give adventurous travellers a map of popular trekkings. The 3 popular ones are Yellow Trail (15 minutes), Blue Trail (20 minutes), and Red&White Trail (around 2 hours). These trails will give you a chance to go around the island, enjoy beautiful natural landscapes and some moments for taking fancy photos.
2. Kayaking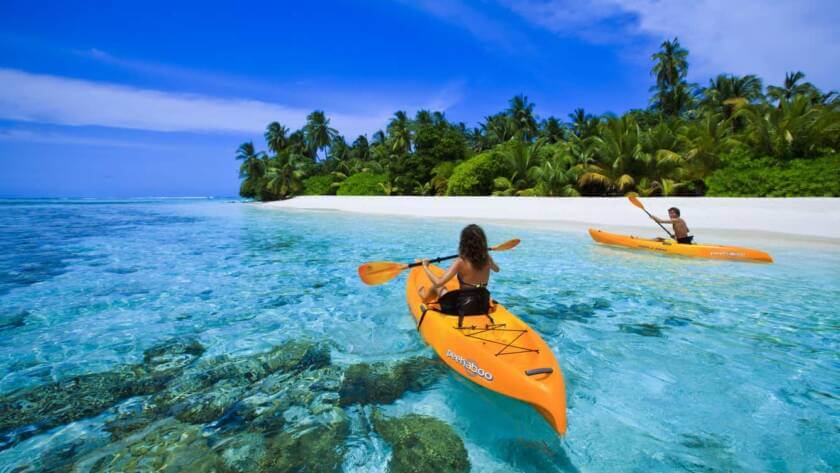 Kayaking is an extremely amazing thing to do on Whale Island. It just takes you VND 100.000 to rent a kayak for 2 hours. Admiring a glorious sunset while kayaking on the tranquil sea of Whale Island by your friends is certainly a must-try experience. Many people who visited Vietnam have tried kayaking in Halong bay. But, Whale Island is also a great place to do this activity with another safer experience for those who are afraid of the sea.
3. Snorkeling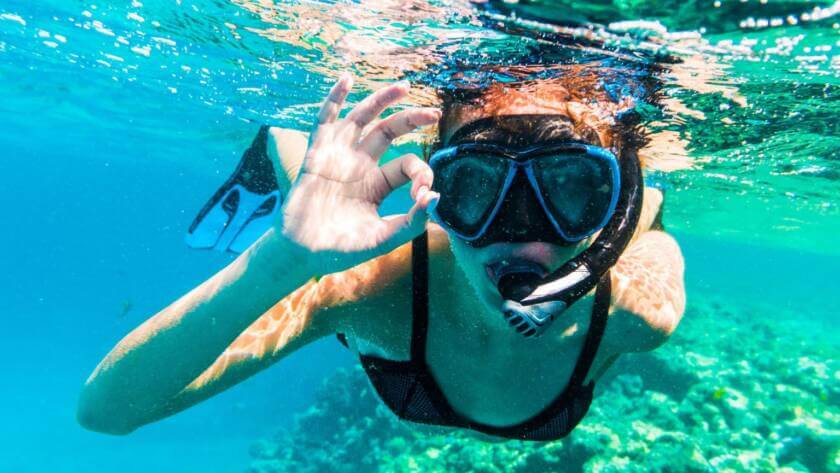 The Central region is the prime location for scuba diving in Vietnam. There are many beautiful colorful coral reefs around the island and the water is crystal clear, creating favorable conditions for scuba diving. You can see vivid underwater life clearly here. With only VND 60.000 (around USD 2.5), you will be provided with a full set of diving equipment. The water is calm so you don't need to worry. Most spots for snorkelling are close to the shore and it's quite safe. This will be such an amazing experience in Vietnam that you don't wanna miss.
4. Scuba Diving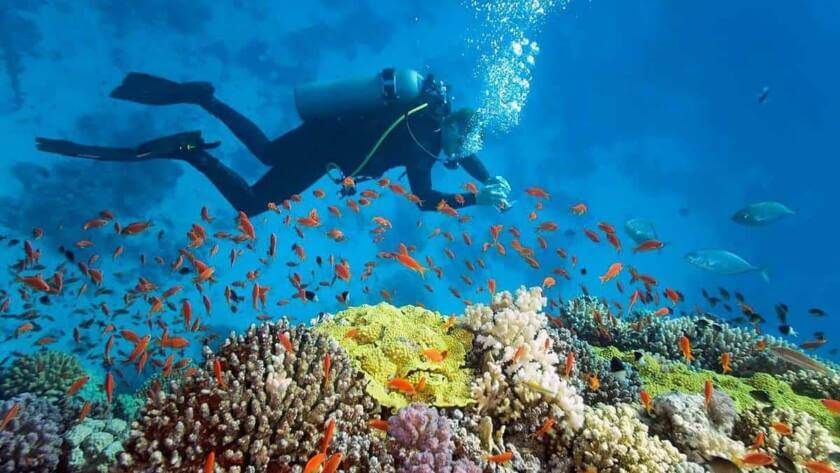 Scuba diving is one of the cheapest and most interesting activities on this island. If you want to register for an adventure under the sea, you can head to Rainbow Diving Center on Whale Island. It only costs about USD 7/person. You will be picked up to the spot and a coach are await to instruct you on how to dive. Hon Lon Island is the most favorite scuba diving spot with 16 meters in depth. Beautifully spectacular coral reefs can be clearly seen here, especially at depths from 5 to 10 meters. Besides, divers also have an opportunity to explore small caves that host a variety of fish and stingrays.
If you are looking for peace and quiet on an isolated tropical island with comfortable accommodation, good food and enough things to do to avoid boredom, there are so many good reasons to join us on Whale Island! A relaxed time, rejuvenating holiday is awaiting…